30w 2 Port PD Fast Wall Charger Plug Type C Multi Port USB Charger Caricatore super veloce Apple Caricatore USB C Wall
Detail di u produttu
Tags di u produttu
Informazioni dettagliate

Nome di u produttu:
Caricatore murale rapidu PD Dual USB 30W
Item No:
APS-1824 UK
Materiale:
ABS & PC
Culore:
U serviziu di culore biancu / neru / OEM hè accettatu
Input:
AC100V-240V
Uscita USB C:
DC5V/3A, 9V/2A, 12V/1.5A
Uscita USB A:
5V2.4A
Potenza di output:
30W
Interfaccia di output:
1x USB è 1x Type-c
Funzione chjave 1:
Caricatore murale USB C super veloce da 30 W
Funzione chjave 2:
Compatibile cù QC 3.0
Funzione chjave 3:
Doppiu caricatore di muru USB PD
OEM & ODM:
Acceptable
High Light:

Caricatore murale rapidu 2 Port PD

,

Caricatore murale rapidu 30w

,

Caricatore super veloce USB C da 30 W
Descrizzione di u produttu
Caricatore da parete USB C super veloce 30w 2-Port Pd Caricatore da parete veloce Plug Adattatore di alimentazione di tipo C
Panoramica
Caricatore USB Smart Dual-Port 30W ightweight, and portable Changeable plug UK Design.Compatible with devices that are powered by USB.SmartDelivery Technology detects intelligently your device and delivers the power that it need.Use any port to charge any of your devices.Compatible cù Quick Charge 3.0.OUTPUTTutal output: 30W max.Port 1: Compatible with PD 3.0 technology.Different devices may allow different values ​​mass.Caricatore murale d'alta qualità cù una grande putenza di 30W Max per u vostru telefunu.U caricatore murale hè faciule d'utilizà è hè assai durable.Ùn serà micca bisognu di rimpiazzamentu per un bellu pezzu.
Prutezzione over-current prutezzione over-voltage prutezzione over-temperature prutezzione short circuit.U vostru telefunu serà sempre prutettu quandu hè in carica è quandu hè cumpletamente carica.
Specificazioni
Specificazioni
Model No
APS-1824 UK
Tecnulugia
carica rapida,
Plug
Spina US, plug UK, plug EU
Input
AC100V-240V (Standard)
Cuntattateci per una gamma più larga. Output12WUSB A: 5V 2.4AUSB C: DC5V/3A, 9V/2A, 12V/1.5AEfficiency (Full load)>85% Safety Protection Over Voltage Protection
Over Current Protection
Prutezzione di Cortu Circuit
Prutezzione sopra u caldu Brucia in 100% MTBF 5000 ore
Features
1. Type C Power Adapter hè adattatu per un registratore di dati di l'automobile di tableta di u telefuninu quasi mobile.
2.ConvenientUsb C fastWall Chargerwith size compact, Portable and light, more comfortable to carry with you.
3. Upgraded Pd Fast Wall Charger Chip cù carica di prutezzione Multiple, ùn faci micca male à u dispusitivu.
4. Caricatore murale 30W PD cù 1 portu USB C è 1 portu USB A.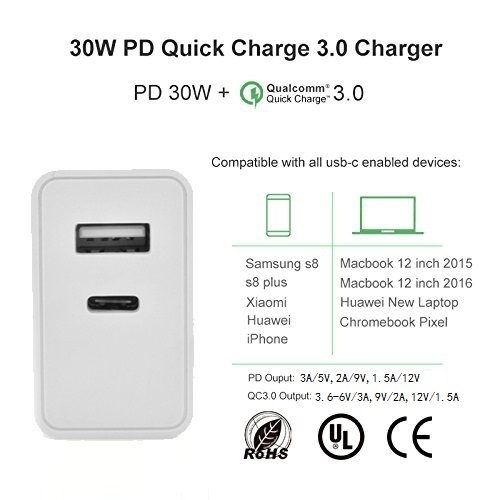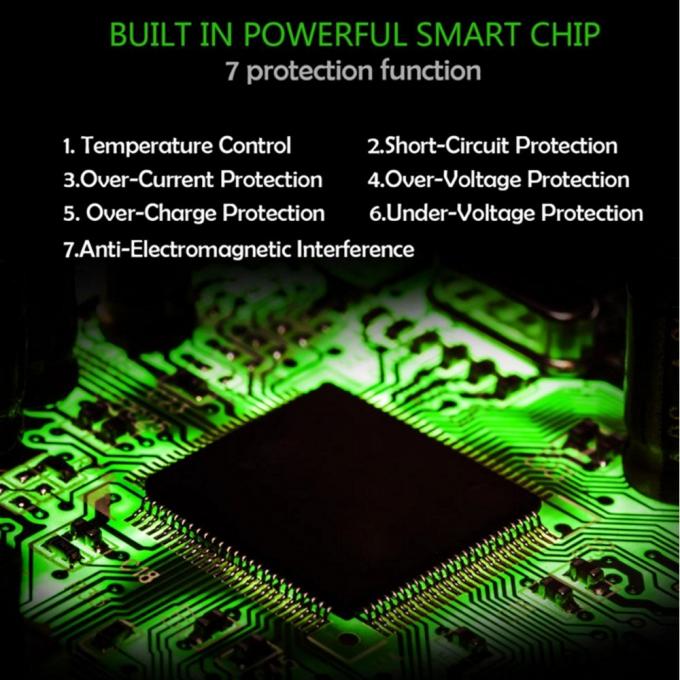 Perchè sceglite noi
1. 10 anni OEM & ODM spirienzi fabbrica in suluzioni Power.
2. Licensed MFI fabbrica Apple
3. Specialized in Mobile Phone Accessories, cumpresi Apple MFi Car Charger, iPhone charger, Wireless
Caricatori, caricatore murale, adattatori di alimentazione per laptop è cusì ...
4. Strict QC squadra cuntrollu qualità
5. serviziu OEM / ODM
6. Small MOQ sustegnu
7. Tempu di consegna rapida
8. Garanzia 12 mesi dopu à u serviziu
9. Continul Innuvazione Tecnica
Se stu caricatore di muru veloce ùn pò risponde à e vostre aspettative, per piacè cuntattateci via Email o Whatsapp.
Qualchese altra preoccupazione, benvenutu à mandà a vostra dumanda per email.
U vostru feedback hè u più impurtante per noi.
---
---