Caricatore Gan PD Compact 100W, Caricatore murale USB C Laptop Type C
Detail di u produttu
Tags di u produttu
Informazioni dettagliate

Nome di u produttu:
Caricatore USB C GAN da 100 W
Item No:
APS-5104
Materiale:
ABS & PC
Culore:
U serviziu di culore biancu / neru / OEM hè accettatu
Input:
AC100V-250V
Uscita USB A1:
4.5V/5A, 5V/4.5A, 9V/3A, 12V/2.5A, 20V/1.5A 30W MAX
Uscita USB A2:
4.5V/5A, 5V/4.5A, 9V/3A, 12V/2.5A, 20V/1.5A 30W MAX
Uscita USB C1:
5V 3A, 9V 3A, 12V 3A, 15V 3A, 20V 5A 100W Max
Uscita USB C2:
5V 3A, 9V 3A, 12V 3A, 15V 3A, 20V 5A 100W Max
Potenza di output:
100W
Interfaccia di output:
2x USB A + 2xUSB C
Funzione chjave 1:
Caricatore Compact Pd 100W
Funzione chjave 2:
U più chjucu Pd Wall Charger Usb C Adattatore d'alimentazione
Funzione chjave 3:
Caricatore Pd 3.0 Wall GAN
OEM & ODM:
Acceptable
High Light:

Caricatore Gan 100W

,

Caricatore USB C GAN da 100 W

,

Caricatore da parete USB C da 100 W
Descrizzione di u produttu
100w Usb C PD Caricatore Compactu Cù Gan u più chjucu Caricatore di Muru Pd Adattatore di Alimentazione Usb C PD 3.0 Caricatore Murale Type-C Laptop
Panoramica
100W Gan Charger USB C caricatore murale utilizza u leader di l'industria GaN Fast Power IC per miniaturizà cumpunenti è PCBA.U novu materiale semiconduttore di Gallium Nitrure permette à i dispositi di putenza chì ponu operare à voltages più altu è frequenza di commutazione chì si traduce in alta efficienza è carica putenti.Mopoint 100W supporta a tensione universale 100-240V in u mondu è vene cun convertitori di pin UK / EU / AU.Sentite liberu di cunnette in ogni locu in u mondu.
APS hà spesu più di un annu à cuncepisce u circuitu EE è u firmware per aduprà cumplettamente u GaN Power IC à una efficienza più alta è una migliore affidabilità di Mopoint 100W.Per fà u più chjucu caricatore 100W cù alta efficienza mai, cuncepemu u circuitu è ​​i cumpunenti in u layout PCBA più compactu.Sò usati solu i cumpunenti più efficaci di l'industria chì ponu furnisce u megliu rendimentu in u più chjucu spaziu.U circuitu densu hè allora circundatu da dissipatori di calore sottili d'alta densità per aiutà à a dissipazione di u calore.Avemu dinù aduprà u AC-DC inveci di a tecnulugia DC-DC per assicurà l'alta efficienza è bassa temperatura.
Specificazioni
Specificazioni
Model No
APS-5104 US
Tecnulugia
carica rapida,
Plug
Spina US, plug UK, plug EU, plug IN, plug AUS
Input
AC100V-250V (Standard)

Cuntattateci per una gamma più larga.

Output
65W
USB A1 & A2: 4.5V/5A, 5V/4.5A, 9V/3A, 12V/2.5A, 20V/1.5A 30W MAX

USB C1 è C2:

5V 3A, 9V 3A, 12V 3A, 15V 3A, 20V 5A 100W Max
Efficienza (Carica piena)
> 88%
Prutezzione di sicurità
Prutezzione Over Voltage

Over Current Protection

Prutezzione di Cortu Circuit

Over Hot Protection

Brucia in
100%
MTBF
5000 ore
Features
1.Max Power Output: 100W
· Porti: 2x USB-C è 2x USB-A
·USB-C1: 100W Max, PD: 5V/3A, 9V/3A, 12V/3A, 15V/3A, 20/5A,
· USB-C2: 100W Max, PD: 5V/3A, 9V/3A, 12V/3A, 15V/3A, 20/5A
· USB-A1: 30W Max4.5V/5A, 5V/4.5A, 9V/3A, 12V/2.5A, 20V/1.5A
· USB-A2: 30W Max 4.5V/5A, 5V/4.5A, 9V/3A, 12V/2.5A, 20V/1.5A
2. Prutezzione Multi: Over-current, Over-voltage, Over-temperature, Prutezzione di short-circuit
3.Pocket Size per Travel with Gallium Nitrure tecnulugia semiconductor
4.Foldable US plug with changable international plugs UK, EU, AU sò tutti inclusi.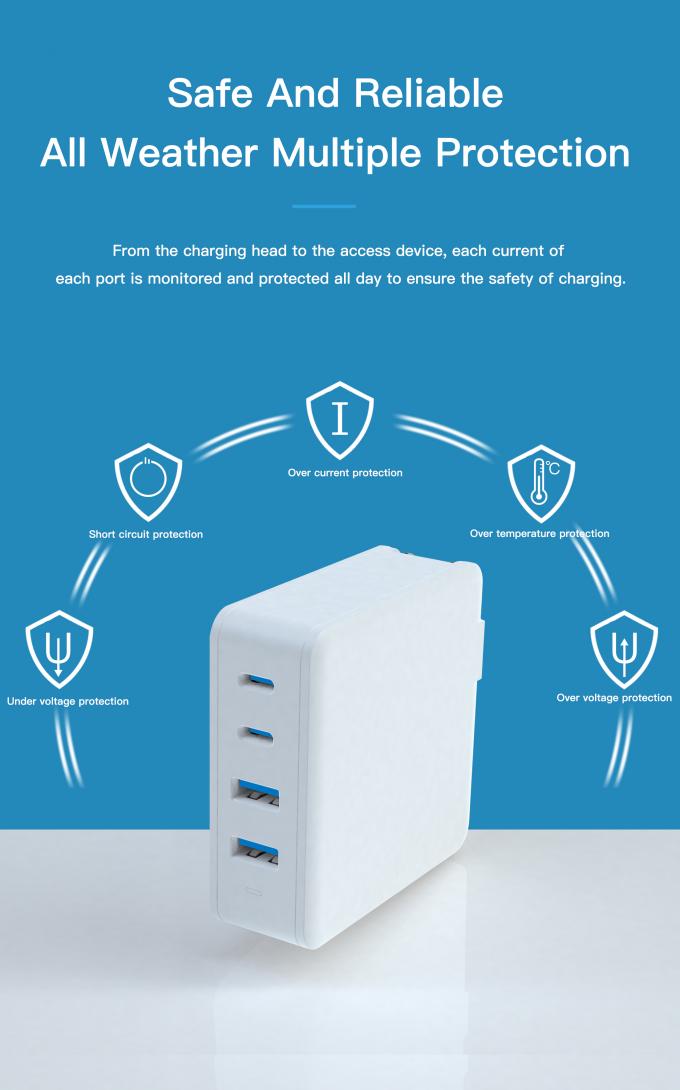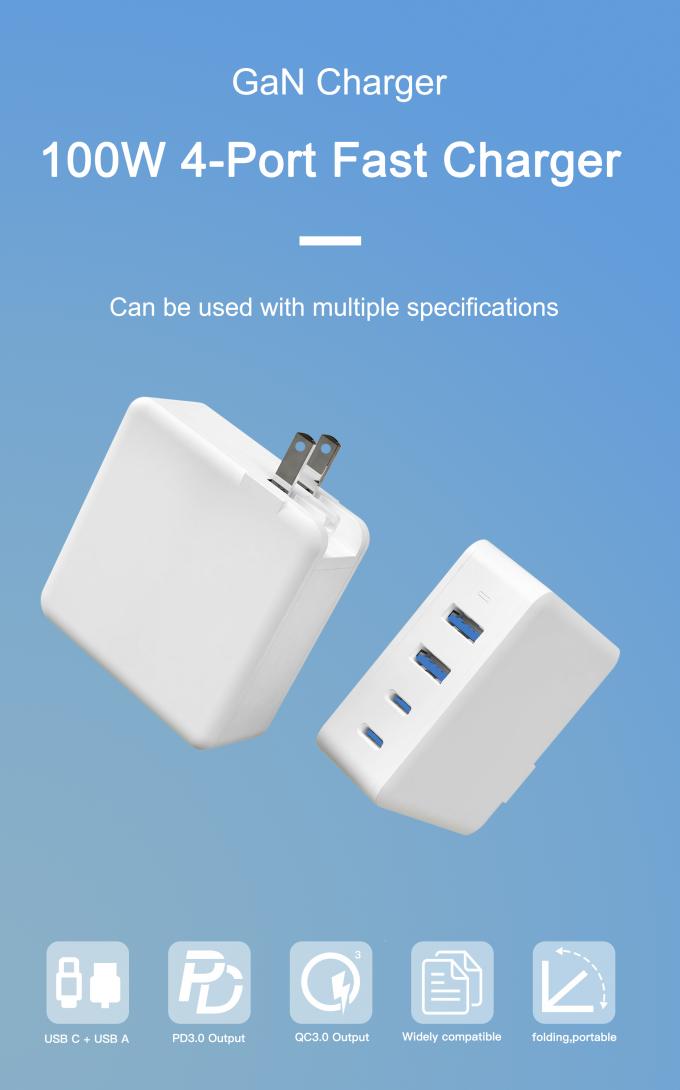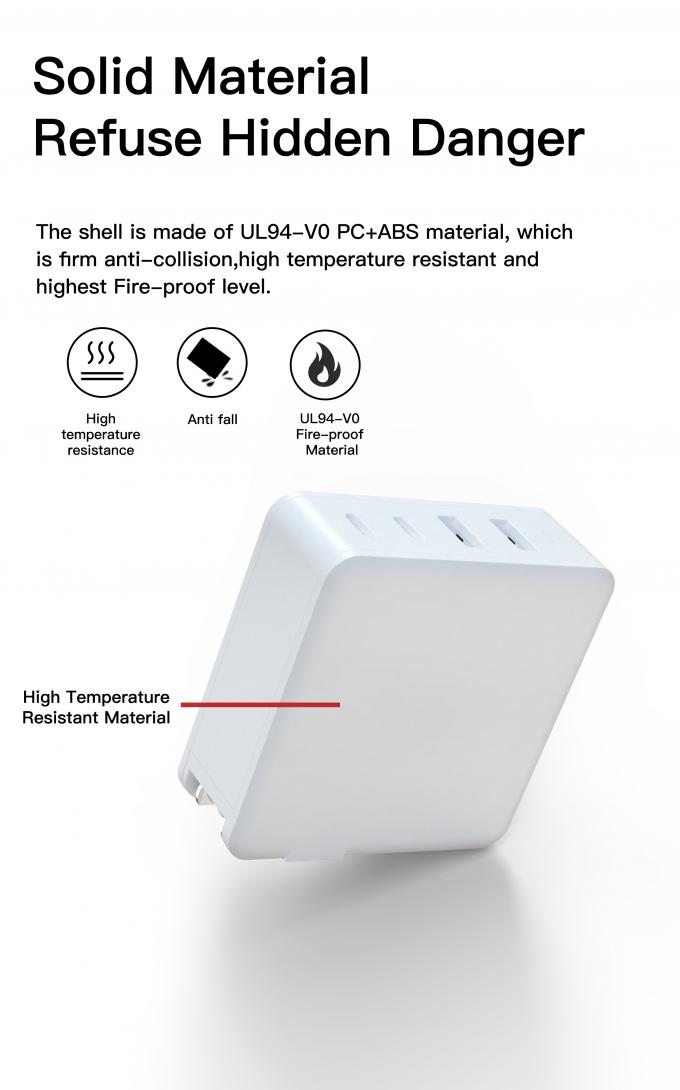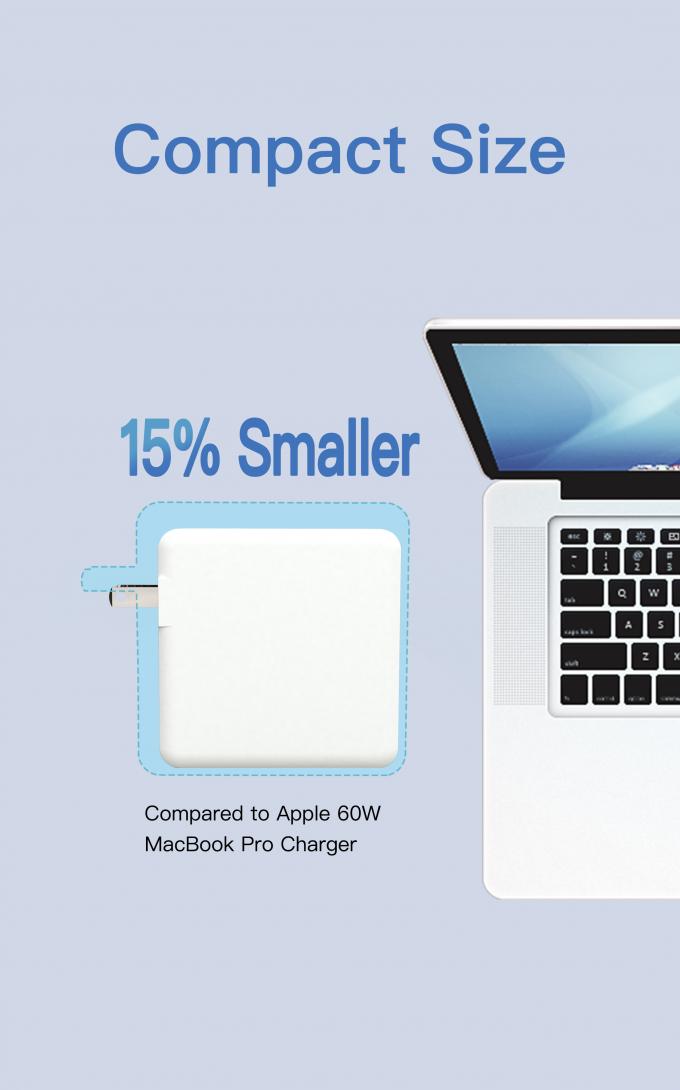 Perchè sceglite noi
1. 10 anni OEM & ODM spirienzi fabbrica in suluzioni Power.
2. Licensed MFI fabbrica Apple
3. Specialized in Mobile Phone Accessories, cumpresi Apple MFi Car Charger, iPhone charger, Wireless
Caricatori, caricatore murale, adattatori di alimentazione per laptop è cusì ...
4. Strict QC squadra cuntrollu qualità
5. serviziu OEM / ODM
6. Small MOQ sustegnu
7. Tempu di consegna rapida
8. Garanzia 12 mesi dopu à u serviziu
9. Continul Innuvazione Tecnica
Se stu caricatore di muru veloce ùn pò risponde à e vostre aspettative, per piacè cuntattateci via Email o Whatsapp.
Qualchese altra preoccupazione, benvenutu à mandà a vostra dumanda per email.
U vostru feedback hè u più impurtante per noi.
---
Next:
Auricolari Bluetooth senza fili per l'annullamentu di u rumore di u microfonu 300 mAh 3 ore di travagliu
---